Cycling in Dahka (Bangladesh)
An equitable transport case
In Dahka the capital city of Bagladesh thousands of rickshaws rule the streets. November 2013 a team of Favas.net (Rob van der Bijl and his friend Jos Huber) launched the idea to improve traffic safety by providing bicycle lighting. Jos used the rickshaw service on a daily bases to bridge the 2.5 kilometre between her house and the Dutch embassy (where she was based as an expert 'Corporate Social Responsibility'). Our first test entailed an easy and cheap lighting set for the personal rickshaw of Jos (Dahka, December 2013).
Rickshaw impressions in Dahka (December 2013)
The first real pilot could comprise the equipment for all rickshaws of the Dutch Club in Dahka. A second shipping of lighting sets marked the finalisation of the project February 2014.



Jos Huber is showing the bicycle lighting set.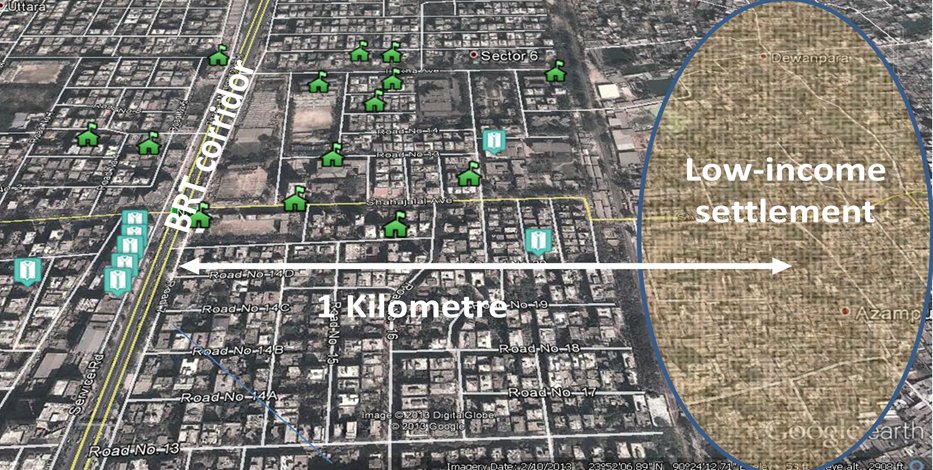 Factory
School
March 2015 at the 'Asian Cycling Forum' Favas.net discussed cycling in Dhaka with Bradley Schroeder from the Institute for Transportation and Development Policy (ITDP). Like Favas.net the ITDP advocates safe, sustainable and equitable transport. Cycling potential is big in Dhaka. Bradley showed us his ideas for a low-income settlement (see his map image above) in the north of the city (precinct Uttara) at the east side of Azgor Ali Road. Here the inhabitants walk to work and school every morning, then back home for lunch, then back again in the afternoon, he explained. The average commuting distance a day is over 5 km. Potentially cycling could bridge the gap between the settlement on the one hand and schools and textile factories on the other hand. Cycling could also improve connections within the city of Dhaka, since it can offer  access as well to the stations of the (future) Bus Rapid Transit (BRT) along N3 Road.
Sadly ITDP announced October 2017 the passing of Bradley Schroeder.
More rickshaw impressions in Dahka (January 2014)
Cycling in Dhaka was a project of Rob van der Bijl and Jos Huber (2013-2014).
Updates by Favas.net: March 2015, October 2017.