Design Masterclass Fukuoka (Japan)
Masterclass urban planning, design and transportation (Fukuoka, Japan, 2011-2013)
The Masterclass program by 'Stadslab' focused on Fukuoka as a well-connected and accessible city, owing a compact central city and a revitalized port city. Fukuoka (福岡市 Fukuoka-shi) is the capital city of Fukuoka Prefecture, situated on the northern shore of Japanese island Kyushu.
Placemaking (space) and transportation (mobility) represented the two big themes addressed in two subsequent 8-day long charrettes of the Masterclass and several events in the city.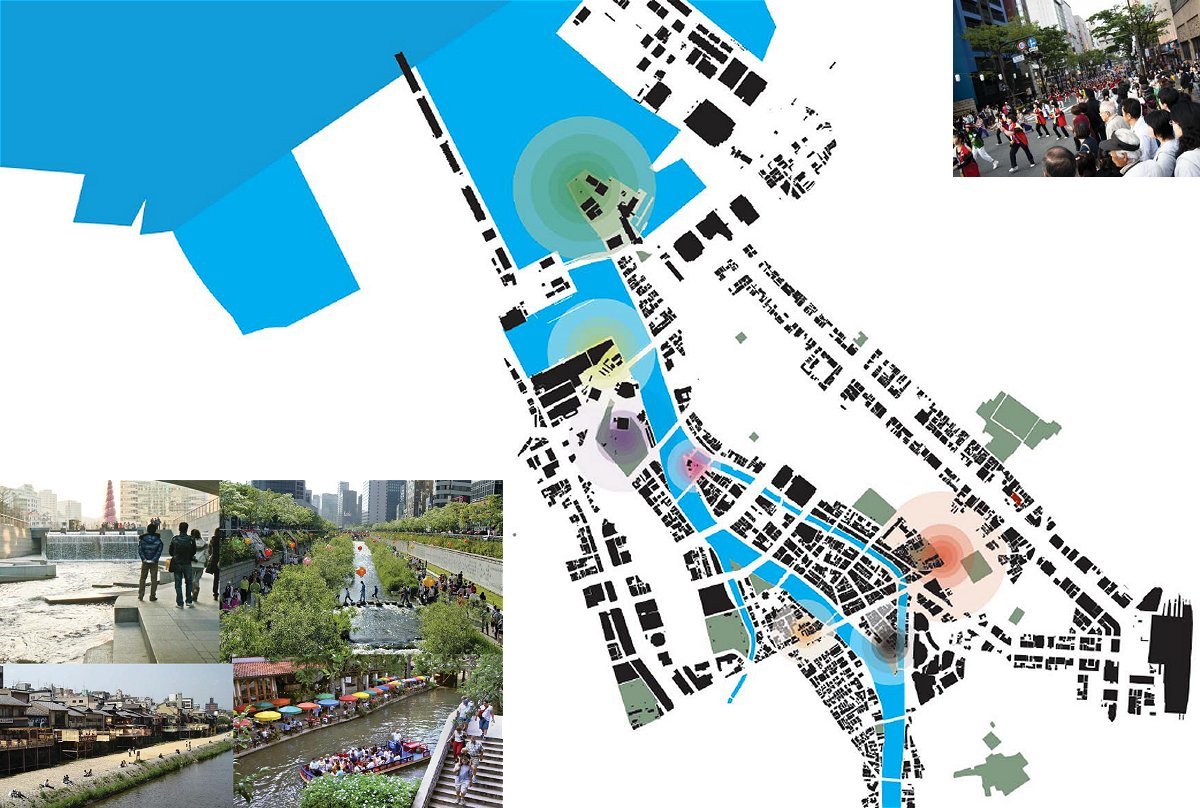 As part of a long-term collaboration (2011-2013) Stadslab European Urban Design Laboratory and Fukuoka Directive Council (Fukuoka D.C.) agreed to arrange a multiple-period Masterclass in Fukuoka and invited design and engineering professionals—architects, planners, civil engineers, urban designers, landscape architects, transportation planners, mobility managers—at all levels of experience to join the charrettes in 2011 (starting / challenge event), in 2012 (2 design / research events) and in 2013 (closing / 'quick wins' event).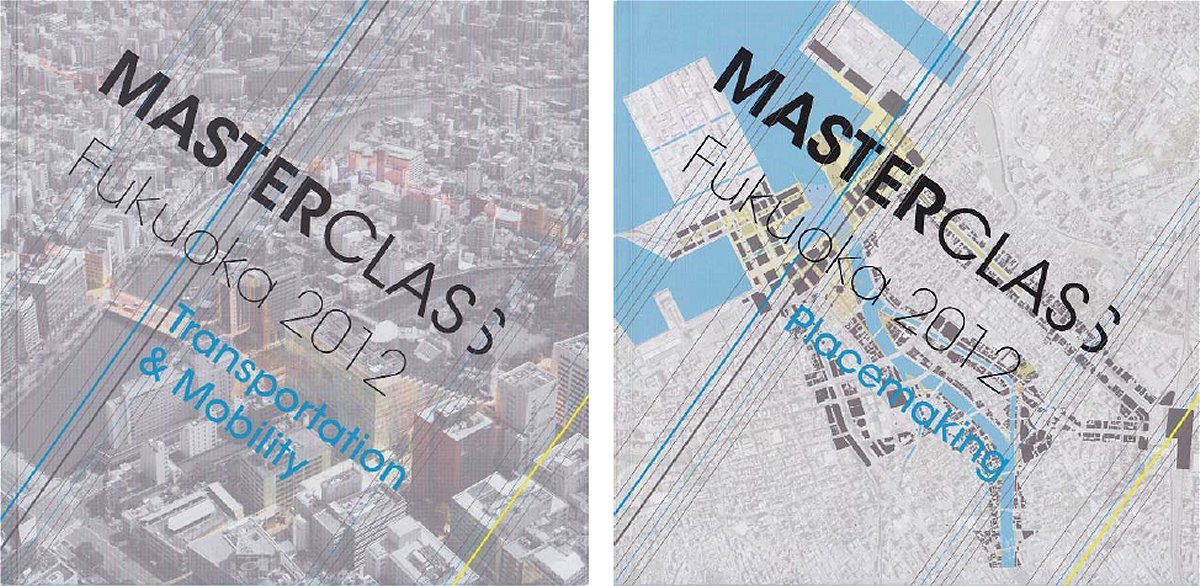 The results of the Masterclasses have been used by Fukuoka D.C. as they work with the city and local companies to revitalize the city, since they want to take progress and make Fukuoka a showcase for sustainable urban planning and design, including transportation design.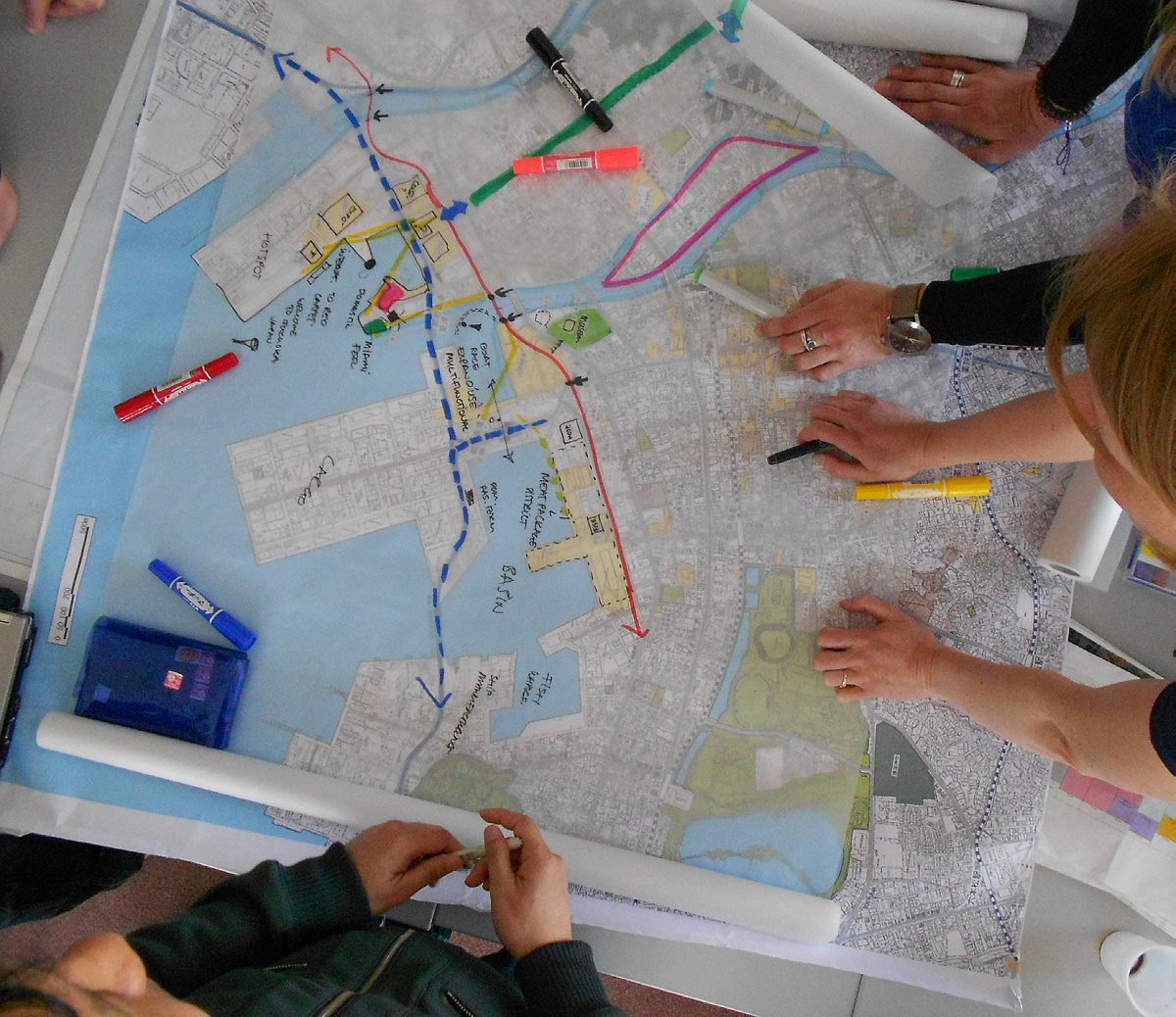 Design approach
Six Masterclass themes enable present future developments at the intersection of urban space and moblity: (1) Urban planning and design (placemaking) – formal and functional land use representations with both the economic and qualitative attributes of space such as form, morphology, pattern, public space and architecture. Special theme: public realm and transportation infrastructure. (2) Urban land use and transportation (mobility) – spatial interactions considering the nature, extent, origins and destinations of the urban movements and the set of transport infrastructures and modes that support passengers and freight. Special theme: 'transit oriented development'; (3) Network planning and design – transportation infrastructure operates on a long term, though movements of passengers and freight are highly dynamic; optimize the transit city by enhancing the network with facilities for bicycles and pedestrians (the bike city and the walking city). Special theme: public transport network design; (4) Environmental impact – sustainable development by coping with the supply of resources (water, energy, etc.), the economic efficiency and the consumption of space. Realizing a smaller footprint by mitigation and adaptation of the network; (5) User requirements – effective traveler information addresses a range of issues to understand user needs to refrain from treating the travelling public as an homogeneous entity; (6) Technical issues – elaboration of urban and transportation technologies (all relevant modes), including the need for 'smart transportation systems'.
Some design examples
The Masterclass produced a large series of design proposals for Fukuoka. A view examples are shown here.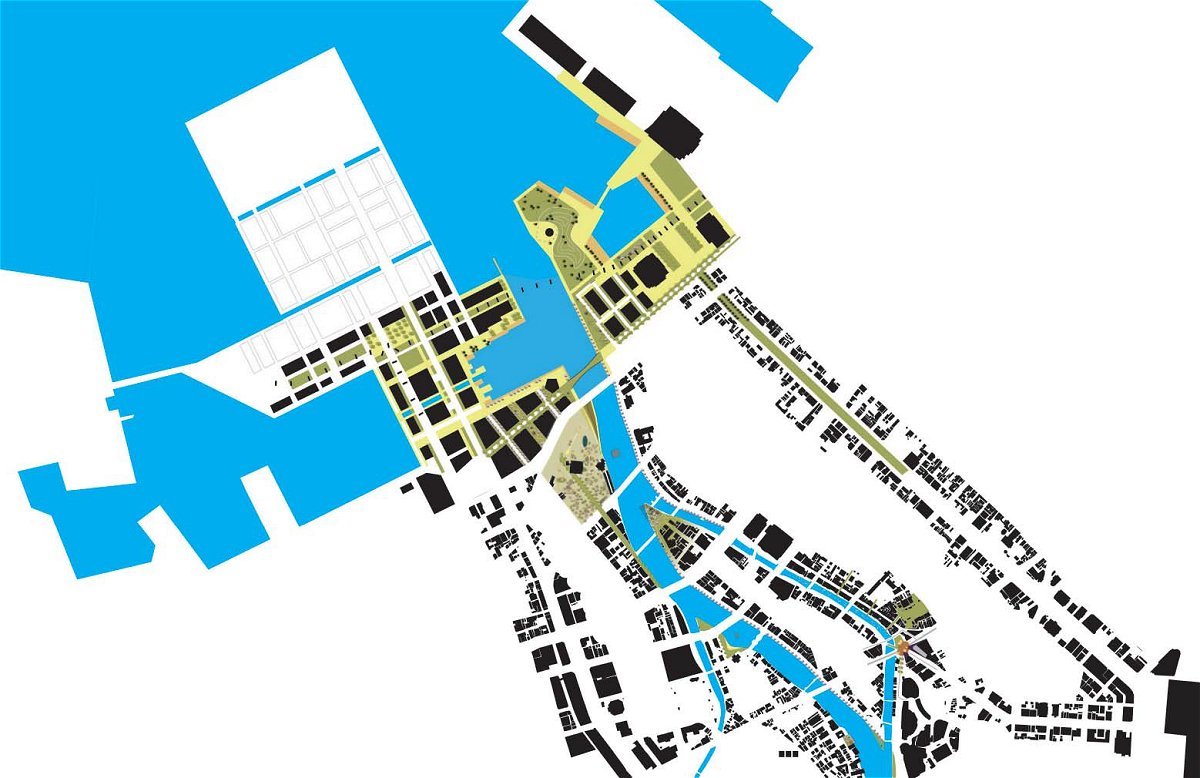 Like other waterfront cities, the focus for Fukuoka should be on transforming the waterfront and reconnecting it back to the city. According the Masterclass this should be done not just for economic and business reasons, but for the good of the city and its citizens. The drawings of the Masterclass show some indicative street blocks intended to serve as a framework for redevelopment of the Suzaki Harbour area. The detailed division of the land into parcels for development will depend on the final program for the area. This program should above all contain a mix of uses, bringing together housing, hotels, offices, retail and cultural facilities. The program will guide the construction of the buildings, but equal attention needs to be paid to the public space between the buildings and along the water's edge in order to create a coherent harbourside neighborhood.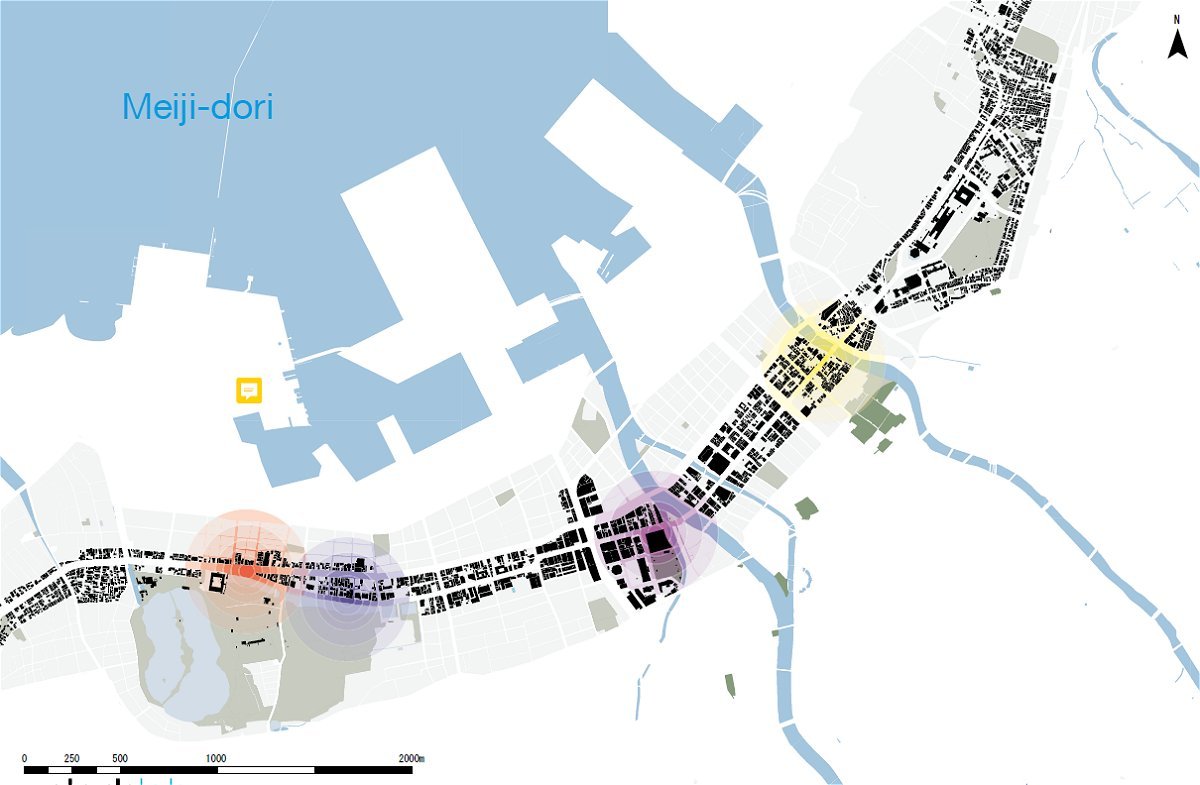 Meiji-dori and every main street like it that is targeted to be provided with a bus corridor will be revamped. This will involve a new profile from building face to building face, renewed pedestrian zones, improved access to buildings and nearby streets, bicycle lanes on both sides of the street, short-stay parking (if room is available), a strip for unloading freight, and a landscaped strip along both sides of the busway. Generally one set of car lanes (one lane in each direction) will make place for a double busway or set of bus lanes.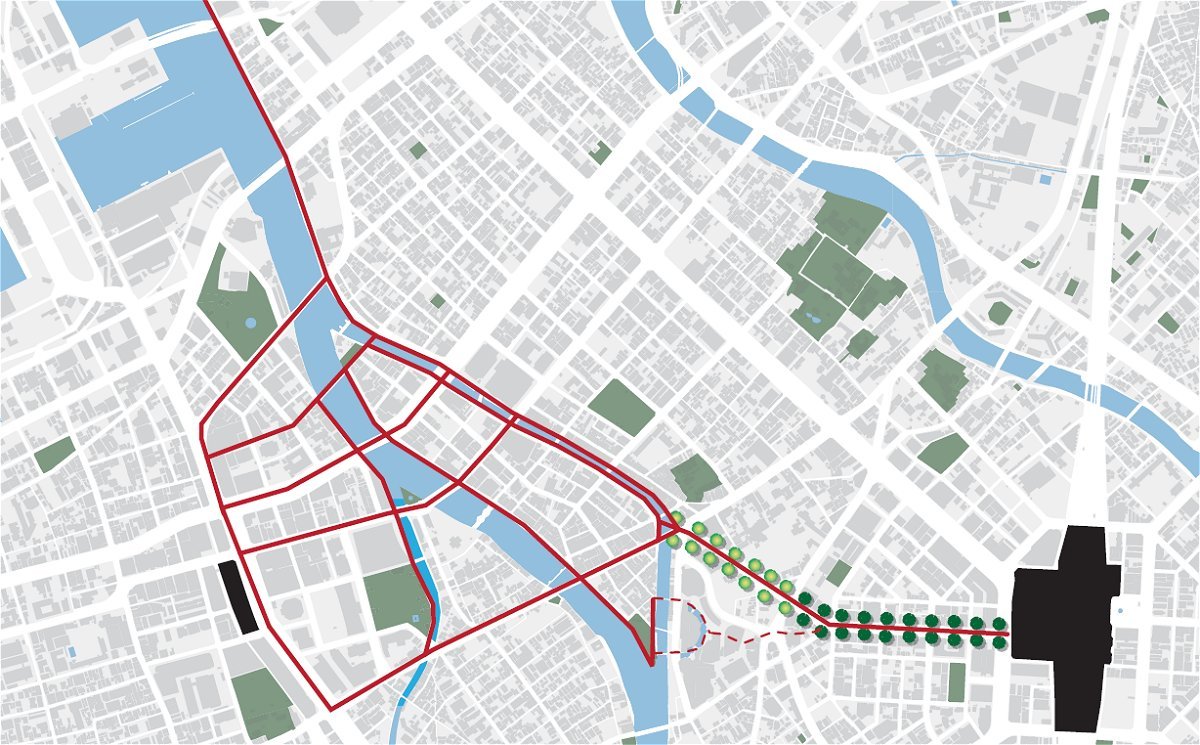 Some important through routes for both pedestrians and bicycles are missing, however, the Masterclass designers proposed new connections with accompanying public realm. Particular attention was paid to direct connections between Hakata and Tenjin and between Tenjin and Suzaki, including future waterfront redevelopment further out on Suzaki Wharf.

Mixed-use development as is envisioned by the Masterclass designers for the area at the base of Suzaki Wharf. The proposed transport terminal building itself could house amenities such as restaurants both at ground level along the waterfront and, most spectacularly, on the terminal's upper floors with tremendous views. The high-rise terminal building proposed by the Masterclass for this site is intended to be Fukuoka's signature landmark of the future. Stadslab loves Fukuoka!
Public acceptance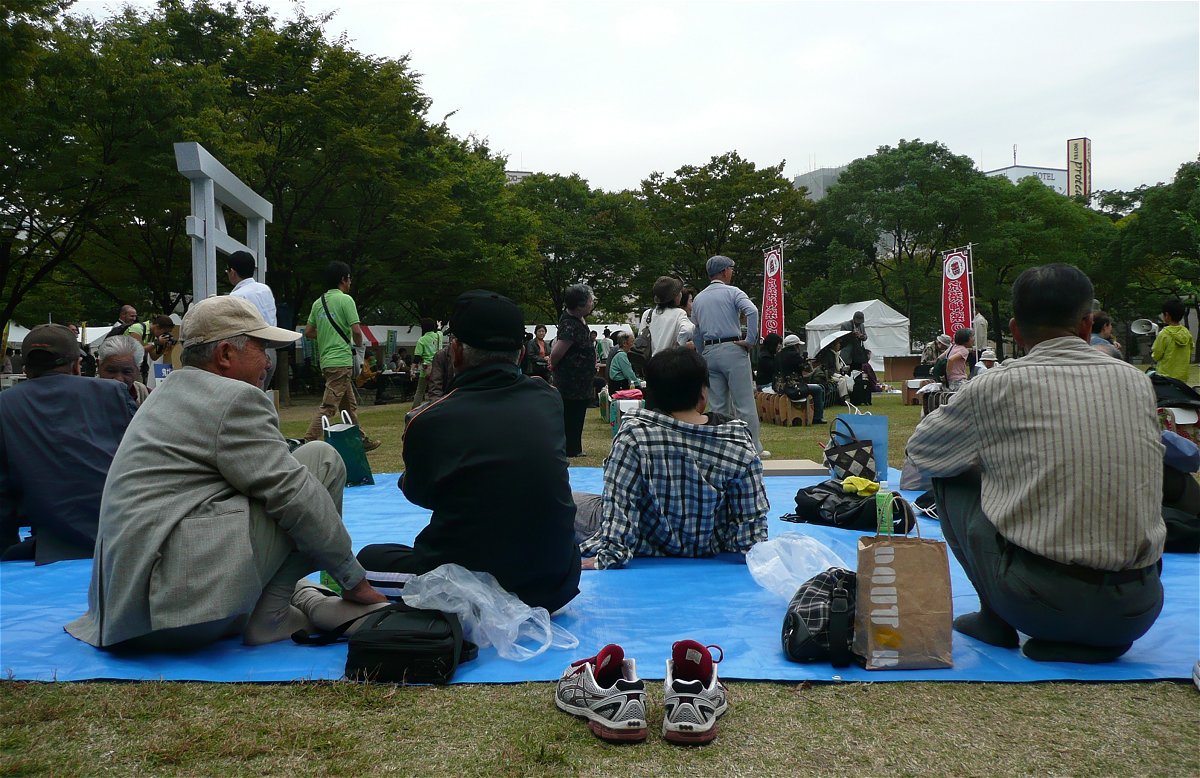 The Masterclass has been concluded by the recommendation to start on a small scale by reconfiguring one part of the proposed urban interventions in particular set of corridors. By building a number of street configurations, the public acceptance can be tested. Indeed, acceptance by Fukuoka's citizen is a necessary precondition for citizen commitment to a larger project, implementation of which could be planned and coordinated with regularly scheduled street maintenance to minimize interruption and interference with normal transport operations.
Pragmatic planning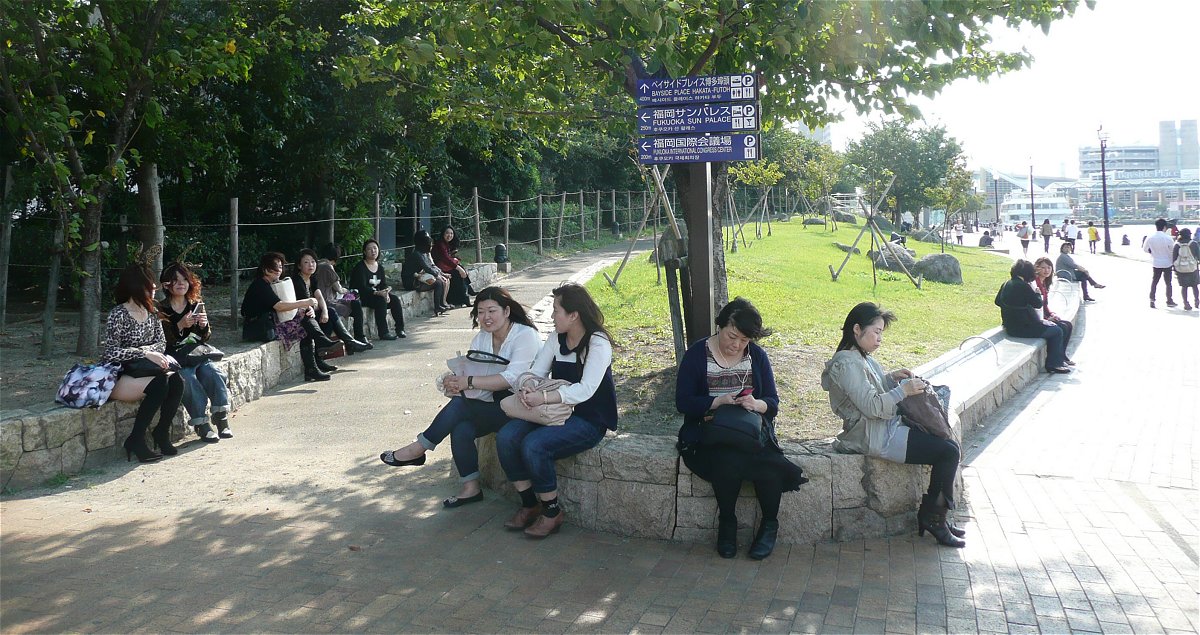 In the last episode of the Masterclass, in the closing event (2013) it was proposed to initiate the planning process in a pragmatic manner with the help of a series of small, relatively easily executable projects (the 'quick wins'). For example, creating attractive routes for pedestrians and better bus routes to various destinations in the city. And creating attractive public space in combination with a new park.
Citizens involvement
Finally, even more 'quick wins'. To round off the Masterclass, the promotion of creative business communities was mentioned and also the 'great ideas' of citizens were mapped. For example, a panel of citizens was activated via social media, in which the ideas and plans from the Masterclass were discussed.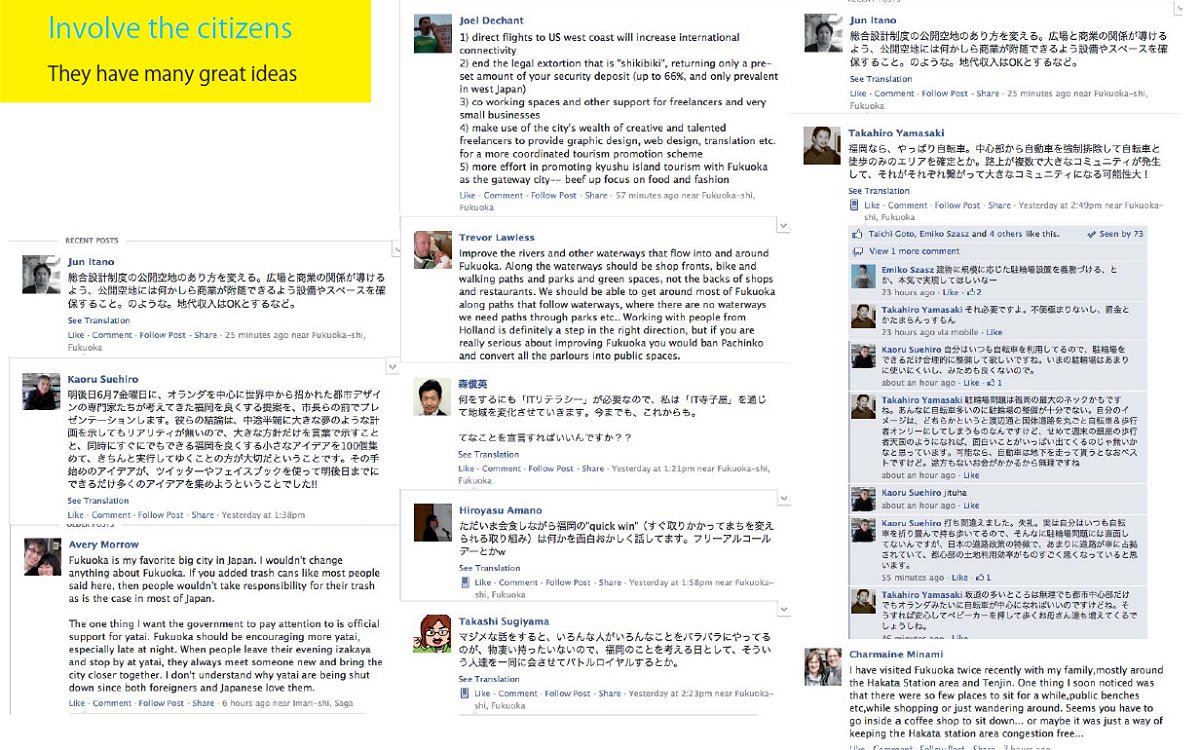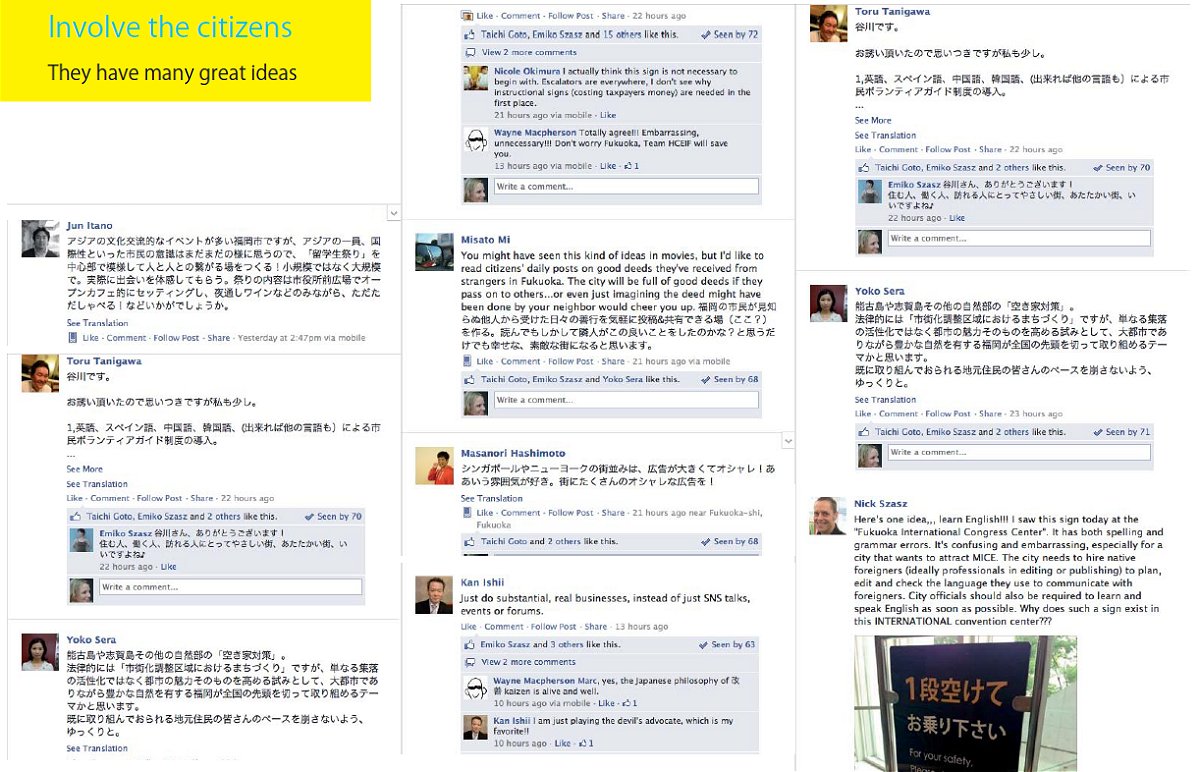 Recent developments
Since 2015, despite the usual interest in Japan for big, top down regulated projects, we observed some emerging grassroots movements aiming at placemaking. Due to these citizens' initiatives public space has been improved, simply by several street festivals, but also by investments by the City in sustainable projects like Suijo Park, a triangle riverfront park on the Meiji-dori Avenue, opened in the  summer of 2016. Fukuoka D.C. helped the City deregulating building uses and floor areas to introduce new amenities  (e.g. cafe and restaurant). Moreover, a new circle bus line has been installed in the central area, enforcing a better accessibility for many people.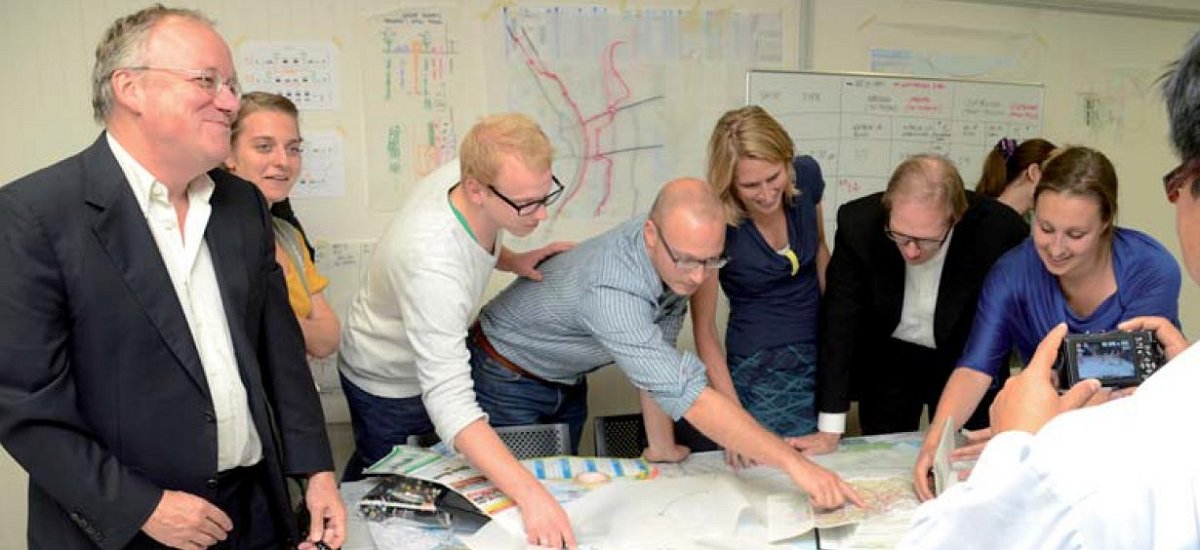 Acknowledgements
Stadslab European Urban Design Laboratory (Tilburg, Netherlands, 2006-2018) was established in the summer of 2006 by amongst other Juliette van der Meijden (also co-founder of Favas.net) to create an urban design laboratory where professionals and academia would meet to exchange knowledge and know-how, while addressing real time cases proposed by a series of hosting cities, like Fukuoka in Japan. In this latter project Favas.net was represented by Rob van der Bijl (with Van der Meijden one of the founders of Favas.net). Stadslab's track record consists of strategic design studies for cities and regions in many (European) countries, like Poland, Hungary, Ukraine, Georgia, Serbia, South Africa and the Netherlands.
The Fukuoka project and all its charrettes and events were guided by the invited experts / supervisors and the staff of Stadslab: Koichiro Aitani (Fukuoka University, Japan), Hiroyasu Armano (Fukuoka University, Japan), Rob van der Bijl (RVDB Urban Panning / Lightrail.nl / Favas.net, Netherlands), Reinout Crince (Staff Stadslab, Netherlands), Neo Chian LIm (Singapore Tourism Board / JTC Corporation, Singapore), Takuma Enomoto (Fukuoka DC, Japan), Andrew David Fassam (URA, Singapore), Marc Glaudemans (Staff Stadslab. Netherlands), Tachi Goto (Fukuoka DC, Japan), Rick de Lange (Staff Stadslab, Netherlands), John Mader (Fukuoka DC / Landlease Corporation, USA), Saline Verhoeven (BplusB, Netherlands), Emiko Szasz (Fukuoka Now, Japan), Masato Wada (Fukuoka University, Japan).
Local partners (Japan): Akira Fuchiwaki (Kyushu Railway Company), Teppei Kawakami (Nishi-Nippon Railroad), Kuniaki Koizumi (Kyudenko), So Matsuki (Nishitetsu), Shintaro Nakamura (Fukuoka City), Kazuya Oishi (Nishi-Nippon Railroad), Keiichiro Takaki (Kyushu Railway Company), Toyohisa Tanaka (Fukuoka City).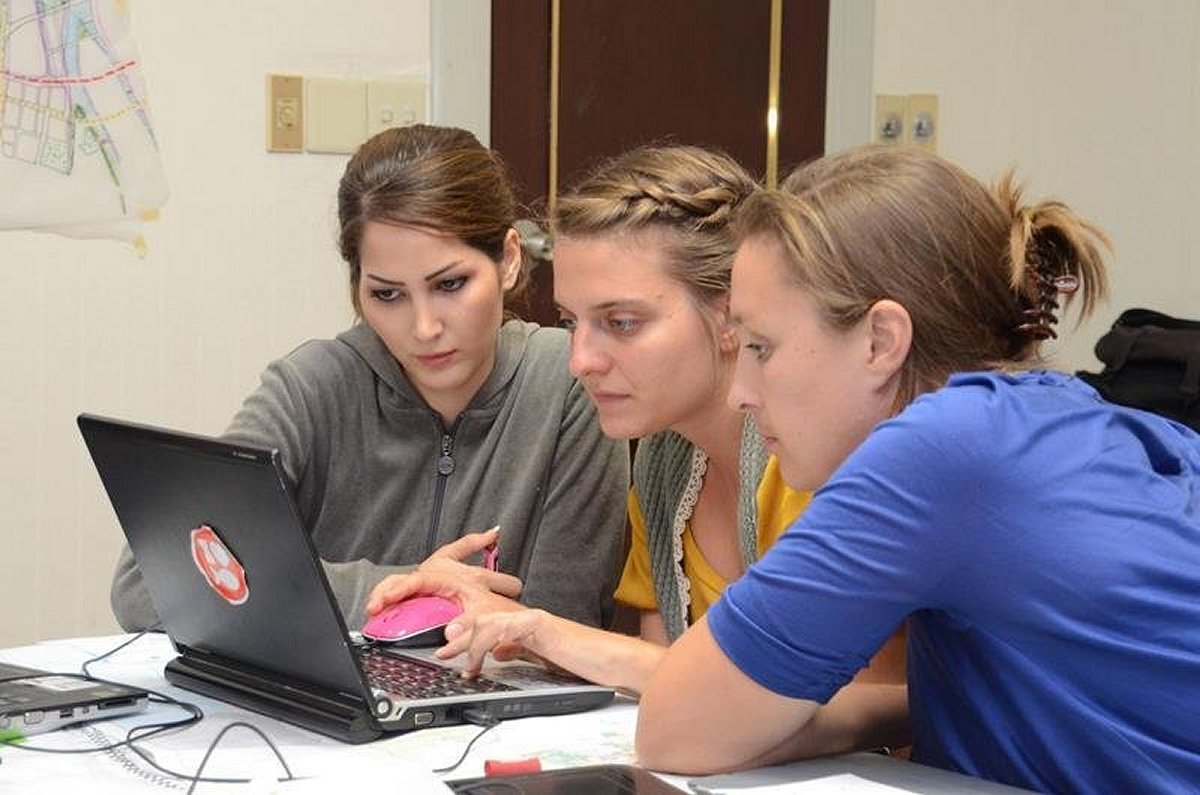 Designers / participants of charrettes: Bihter Almaç (Turkey), Kevin Battarbee (Finland), Neeltje van den Bogaert (Netherlands), Urmi Buragohain (Australia), Mona Hajibandeh (Iran), Niels Kranenburg (Netherlands), Nikki Mulder (Netherlands), Jantine de Munnik (Netherlands), Candy Rosmarin (South Africa), Satoshi Shibuya (Japan), Britta Vestergaard (Denmark).

Fukuoka Directive Council (Fukuoka D.C.) is a joint Think & Do Tank of industry, academia, government and citizens.
Special thanks to citizens and all other stakeholders of Fukuoka (福岡市 Fukuoka-shi).
Fukuoka is the capital city of Fukuoka Prefecture, situated on the northern shore of Japanese island Kyushu. It is the most populous city on the island, followed by Kitakyushu. It is the largest city and metropolitan area west of Keihanshin. The city was designated on April 1, 1972, by government ordinance. Greater Fukuoka, with a population of 2.5 million people (2005 census), is part of the heavily industrialized Fukuoka–Kitakyushu zone.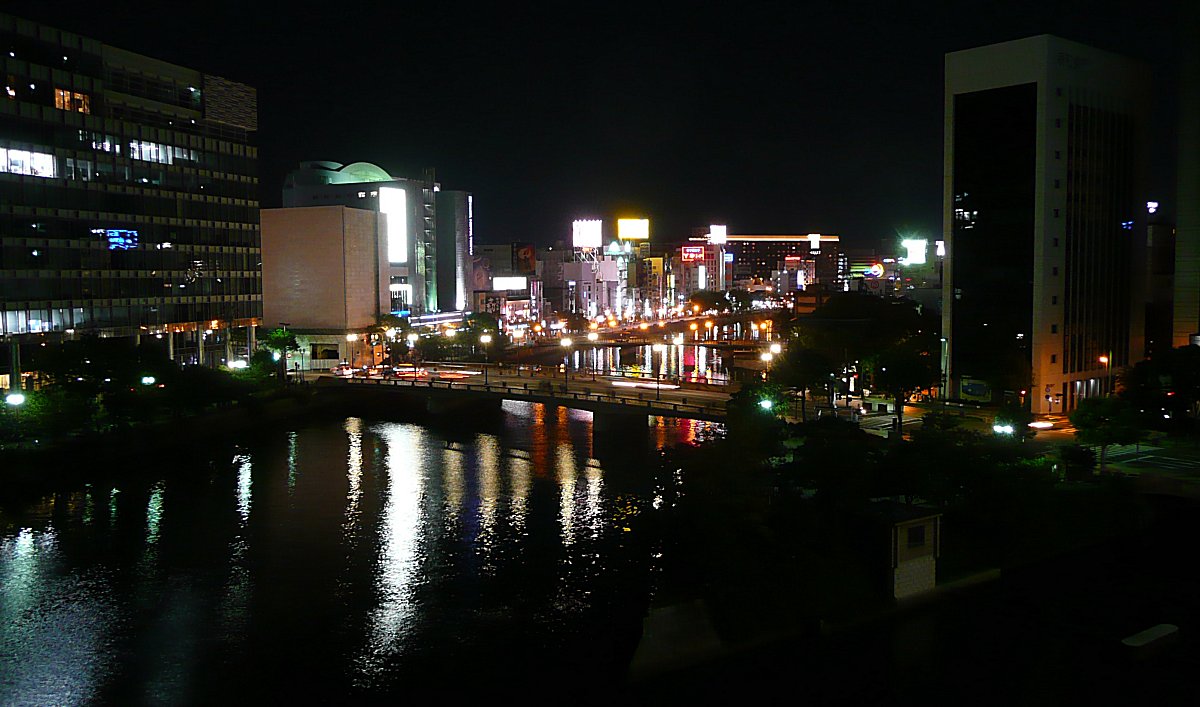 Copyrights
Texts and compiled images: Stadslab (2011-2013)
Images 'Fukuoka by night', 'Public acceptance' and 'Pragmatic planning': Favas.net (Rob van der Bijl, October 2012)
Editor of this page: Favas.net
The images in this page have been published with the consent of the authors. However, should you believe your image has not been properly authorized please contact Stadslab at: Fontys Academy of Architecture and Urbanism.