Red Light Realm
Timeline of projects and events
The aim of our 'Red Light Realm' project is a free and unconditional exploration of urban 'red light' zones. Research into prostitution in cities is often subject to taboos and prejudices. Favas.net wants to break with such an attitude and instead creatively explore the social and spatial dimensions and characteristics of urban realms in which prostitution may or may not thrive. Creatively, we consider our exploration (in addition to conventional research) as a spatial design enterprise. Leading hereby is the perspective and interest of the sex workers themselves (empowerment).
Our 'Red Light Realm' project, in co-operation with Tsaiher Cheng and others, is based on a selection of various cases in the following cities worldwide: Amsterdam (Netherlands), Antwerp (Belgium), Brussels (Belgium), Copenhagen (Denmark), Edinburgh (UK, Scotland), Ghent (Belgium), Groningen (Netherlands), The Hague (Netherlands), Hong Kong (China), Taipei (Taiwan), Tokyo (Japan). In the timeline below we highlighted projects and events linked to some of these cases.
Timeline
2021 – Sex Workers in Red Light Districts
July 2021, Oliwia Jackowska reported on ensuring the safety and independence of sex workers. According Jackowska prostitution and sex services have always been lining the urban fabric around the world. Sex work has been dubbed the oldest profession in history. In her article she explores the contradicting ideas on sex work and why we should be talking about it. One of her cases is Amsterdam (De Wallen). See also her full article 'Sex Workers in Red Light Districts, 50 Euros for the Pleasures'.
The stigmatisation of prostitution makes it impossible to resolve the core problems – ensuring the safety and independence of sex workers. With everything considered, Amsterdam (De Wallen) still represents a good step towards tackling sexual exploitation in a reasonable way. In most of the world, street workers are just part of the urban reality, and considered a taboo, their safety is rarely discussed. The subject of prostitution and sexual exploitation is extremely gendered, and still needs to be addressed as a protection of women's rights. You could argue that men can also be sex workers, and their rights need to be addressed as well. Jackowska considers the lack of consensus on the basic principles regarding prostitution as the biggest challenge for the future of sex workers.
Why red light districts? In symbolism, the colour red represents passion and sexuality, but also seduction and evil. The female body has been seen in history and in many religions only in two contexts: as an instrument for bearing children, and as a dangerous instrument to lure men towards evil and sin. On top of this, the unbalanced power relations in society, especially referring to financial resources, affect both men and women, and perpetuate the image of women selling and men buying sex. Some experts argue that prostitution in effect reinforces this gender stereotype with men having potentially an unlimited access to women's bodies, depending on their economic status.
Jackowska concludes that the debate on prostitution is especially challenging. It involves bias, assumptions, social injustices, discrimination and lack of understanding. Prostitution has always been lining the urban fabric. It is time for policy makers, urbanists, architects and designers to finally include sex workers in their drawings, plans and policies, and provide them with safety and independence that they need.
See full article of Oliwia Jackowska.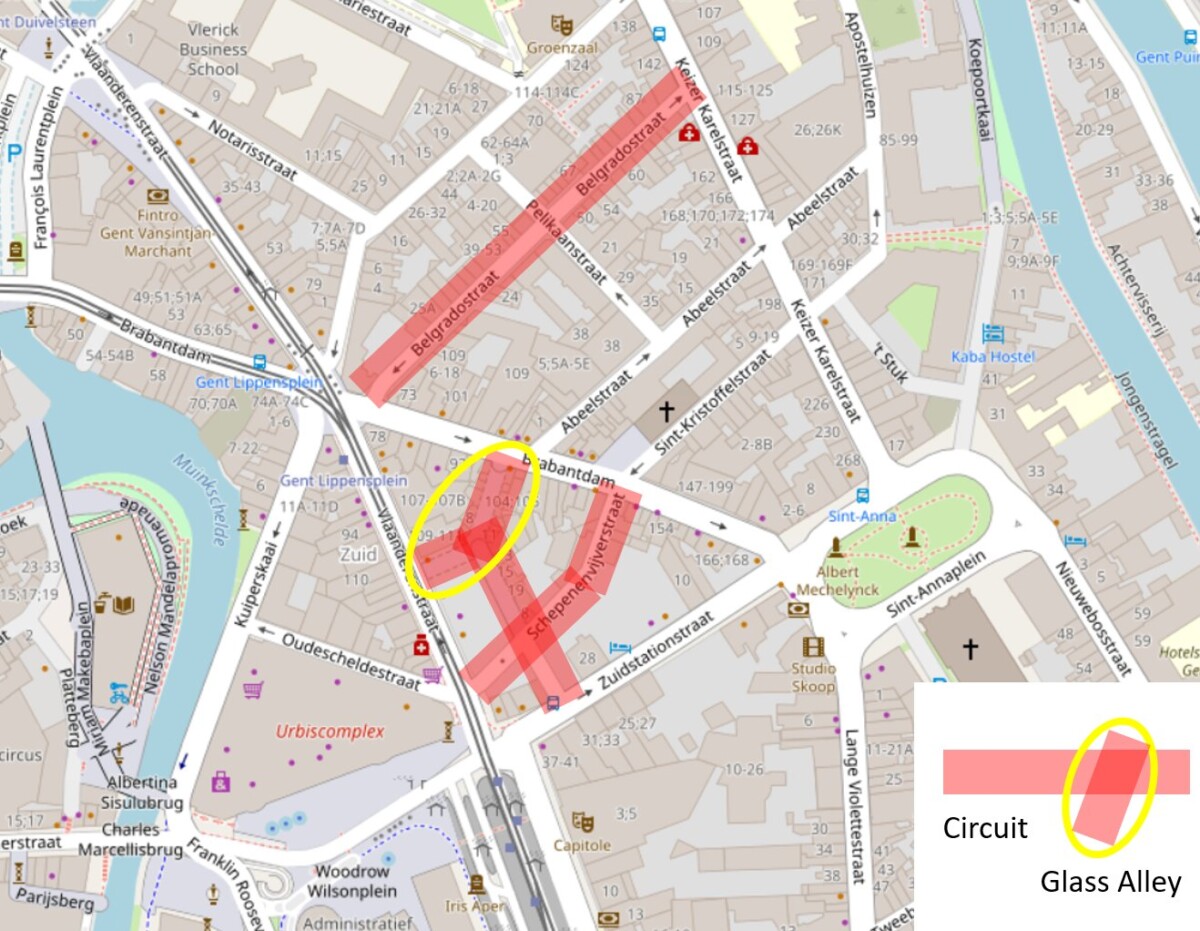 2017-2020 – Ghent
As spin-off from our work for Ghent University we checked the red light oriented circuit in the streets of the former main station district (see also the related 'Streets of Ghent' project of Favas.net, in co-operation with the City of Ghent and again Ghent University).
A well-known and central part of this circuit is the beautiful 19th century architectural passage (1846-1852, 1886), locally nicknamed as 'The Glass Alley' (Het Glazen Straatje). A colourful collection of brothels is scattered in different streets in and around this passage (see our mapped circuit; courtesy OpenStreetMap).
2016-2018 –  Taipei Wanhua
Snake Alley in Wanhua is still associated with the old red light zone. Though, officially the area has been cleaned up from the years when prostitution was legal. During 2016 Favas.net was engaged in a sight visit guided by our colleague Tsaiher Cheng (well-known from het Red Light City project – see next point in the timeline). However, April 2018 we reported in our monthly news issue the last snake eatery in Snake Alley announced its closure. The slow, though continuous social and economic transformation of historic Wanhua most likely also effects the red light zone.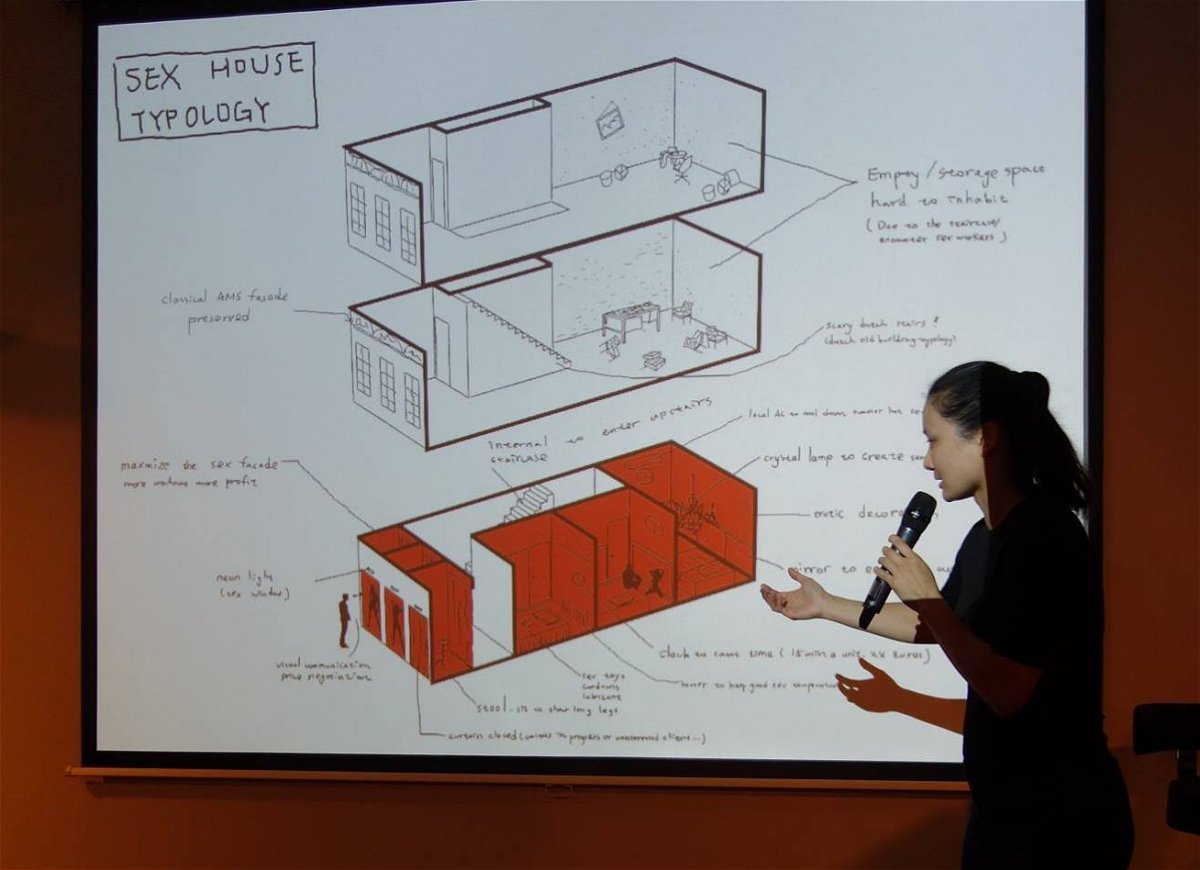 2016 – Red Light City
What is the significance of sex work for the architecture of the city? This challenging question of Tsaiher Cheng (and her co-researchers / authors Jung-Che Chang, Magdalena Sabat, Maarten Loopmans and Manual Aalbers) is addressed in their book 'Red Light City' (The Architectural Observer, 2016). Based on case studies in Amsterdam, Antwerp, Hong Kong, Montreal, and Taipei, architect Cheng and her team make it plausible that every red light district is the result of both spatial and social conditions and effects, such as urban planning, shape and structure of urban precincts, legal status of sex work, cultural attitudes and economic circumstances. With her book our colleague Cheng shows that urban prostitution, officially illegal or not, has a severe impact on urban form and network, on buildings, on streets, squares, and alleys, in short, on red light realm.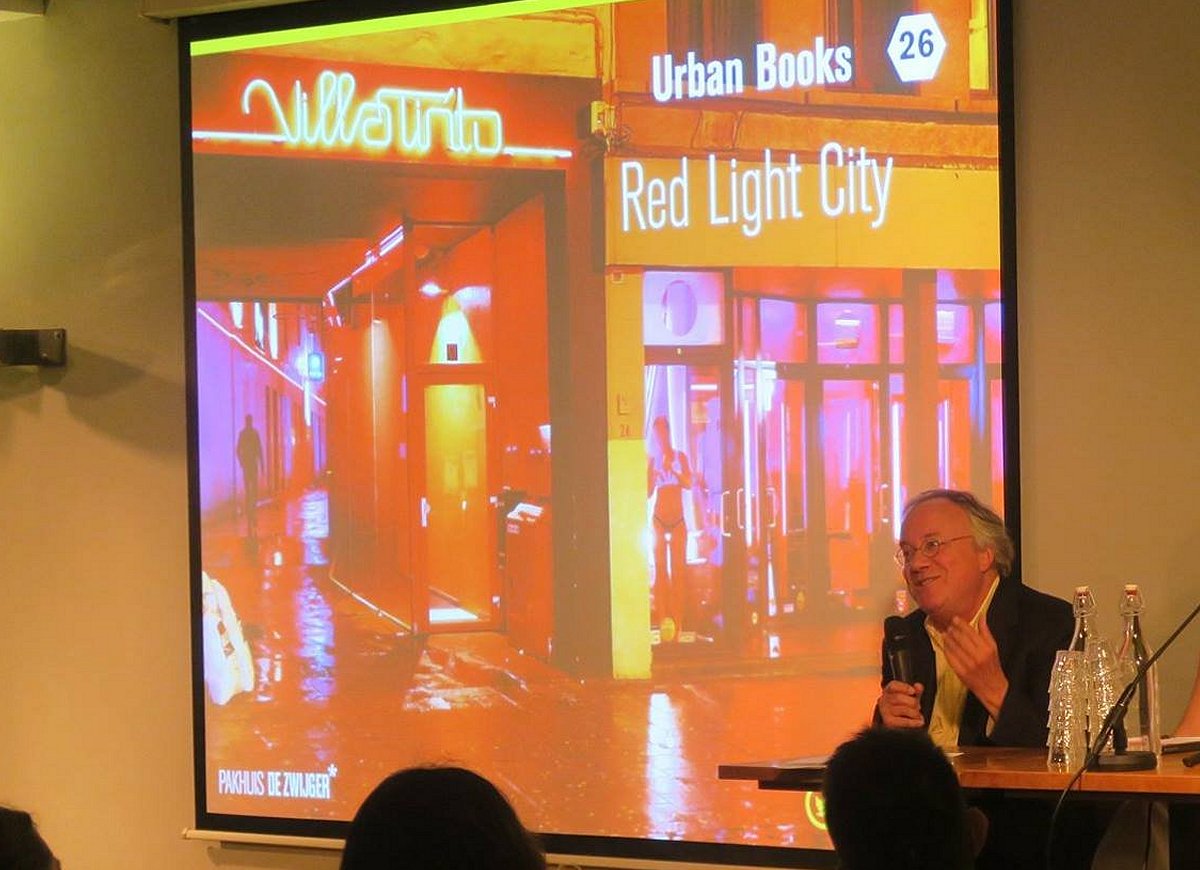 As an invited book critic Rob van der Bijl (Favas.net) expressed his appreciation during the official book presentation in Amsterdam (September 16, 2016). "My first experience with the sex work business was as an urban planner working for the Dutch police, particularly in The Hague during the nineties. We addressed safety factors of urban and architectural design, including sex work. It was a very difficult subject of that time, and the mayor of the city was panicking actually, about presumed problems caused by prostitution. It was the first time for me to see possibilities to engage sex work to urban planning. That is the reason that I am very happy to see this book. It addresses sex work from an urban planning point of view, and NOT from a moral point of view."
See also Tsaiher Cheng at https://business.facebook.com/theredlightcity/
Favas.net recommends to buy her book 'Red Light City' at Naibooksellers.nl/.
2011-2013 – Amsterdam, Project 1012
Supported by the Dutch ARCAM institute and the magazine for landscape architecture and urban planning Blauwe Kamer, we assessed 'Project 1012' of the city of Amsterdam. This project had started in 2007, named after the downtown's postcode area number. With the project, the municipality mainly wanted to strike  crime through an economic upgrading of this important part of Amsterdam's city centre, where the illustrious red light district (De Wallen) is also located. The city wanted to refurbish the precinct and buy up brothel real estate on a large scale, thereby – hopefully! – eliminating human trafficking and other organized crime. Rather ill-considered, it was decided to halve the number of window brothels. However, around 2013, it became clear that the project was bogged down by the economic crises (2008, 2012) and, as a result, a financial and real estate crisis. According to Favas.net, the failure of the project is mainly caused by the fact that 'red light realm' was and is not recognized as an essential part of the city. Although prostitution is legal in the Netherlands, the city of Amsterdam deploys a very restrictive policy. Nevertheless, it is better for the urban planner or aid worker to recognize that this economic sector is a given for every city. This means that the reduction in the number of windows must be treated with extreme caution, since shortage of windows leads directly to a more tense market, especially for the prostitutes themselves. Fewer windows puts pressure on the working conditions of sex workers, partly because it makes it more difficult for them to rent a room. Their business becomes in jeopardy, hence, they risk increases being forced to move to illegality. This analysis is confirmed by the Dutch police, which for these reasons is critical of the reduction of the number of windows in Amsterdam and other cities in the Netherlands.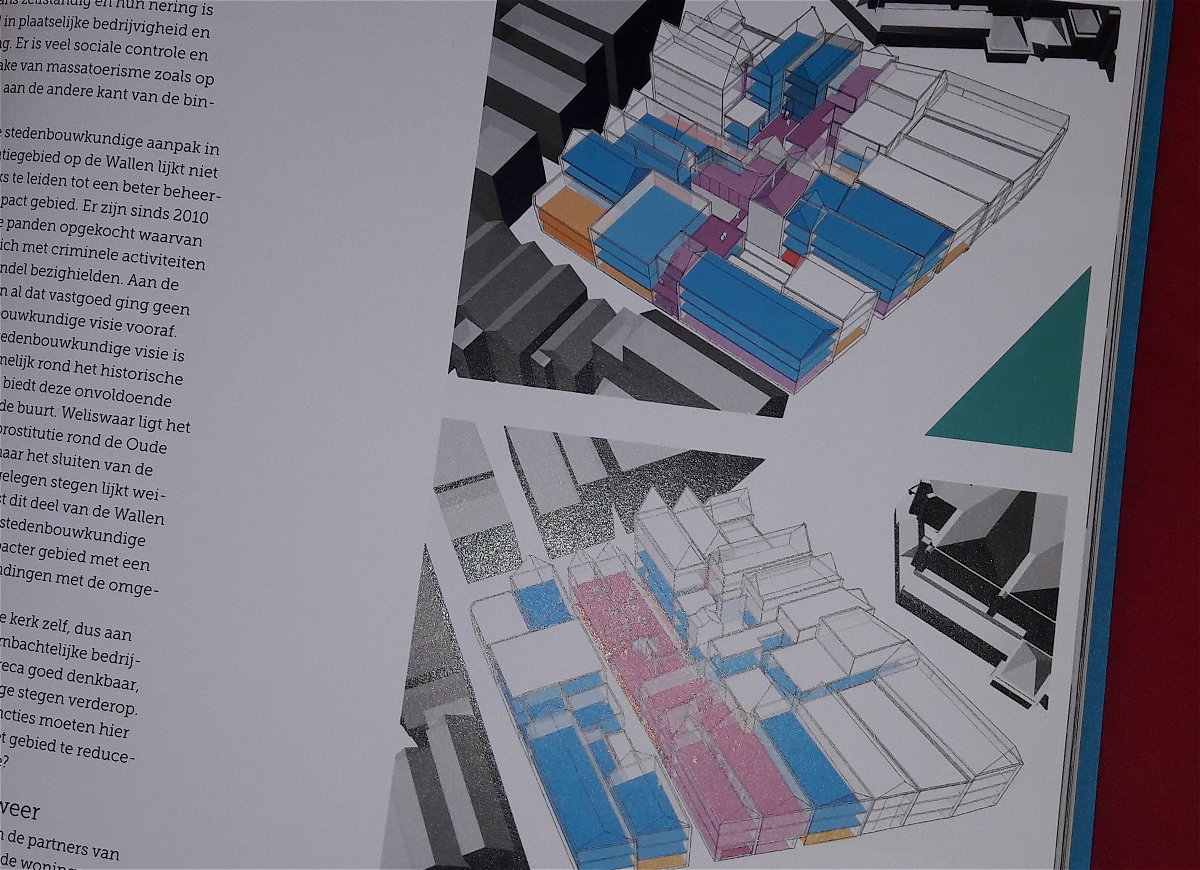 At the same time, our colleague Tsaiher Cheng researched for her book (see the previous point on the timeline) how Amsterdam's red light district could be transformed into a lively and liveable neighbourhood. Cheng visualized how the use of the neighbourhood can be intensified in an economically responsible way by making underused upper floors suitable for habitation, cultural destinations, or also for prostitution. The densification would increase the social and economic viability of De Wallen. However, she did emphasize that, in addition to urban planning, it is mainly legal conditions that determine the possibilities of the solution.
Source: Rob van der Bijl  (2013), Pand voor pand de Wallen saneren. Opwaardering Amsterdamse rosse buurt stagneert. Blauwe Kamer, april 2013, pp.31-34.
2011-2013 – Antwerp
The innovative policy of the city of Antwerp served as an inspiring example for our work in Amsterdam. The centre of gravity of the old Antwerp red light district had been shifted a few years earlier to a new location, where the commercial building Villa Tinto was converted into the largest brothel in Belgium. Villa Tinto with new windows (or 'display cases') is the pièce de résistance of the renovated Schipperskwartier. The historic labyrinth of streets in a residential area has made way for a compact prostitution neighbourhood, which is nevertheless well-connected to the environment via a limited number of well-manageable entrances. The number of prostitution premises was limited, and with it the nuisance, but due to the more compact design, the number of work spaces, nicknamed as 'little lights' (lichtjes) could remain the same. These policy and design prevent prostitution from sliding into illegality and crime. Accordingly, the intended transformation was very successful, since it has been mainly based on the municipality's approach to dispose of the old brothels and to revoke the permits. At the same time, an alternative was created with the new, compact buildings. So no public money had to flow to the purchase of shady real estate, as in Amsterdam.
Source: Rob van der Bijl  (2013), Pand voor pand de Wallen saneren. Opwaardering Amsterdamse rosse buurt stagneert. Blauwe Kamer, april 2013, pp.31-34.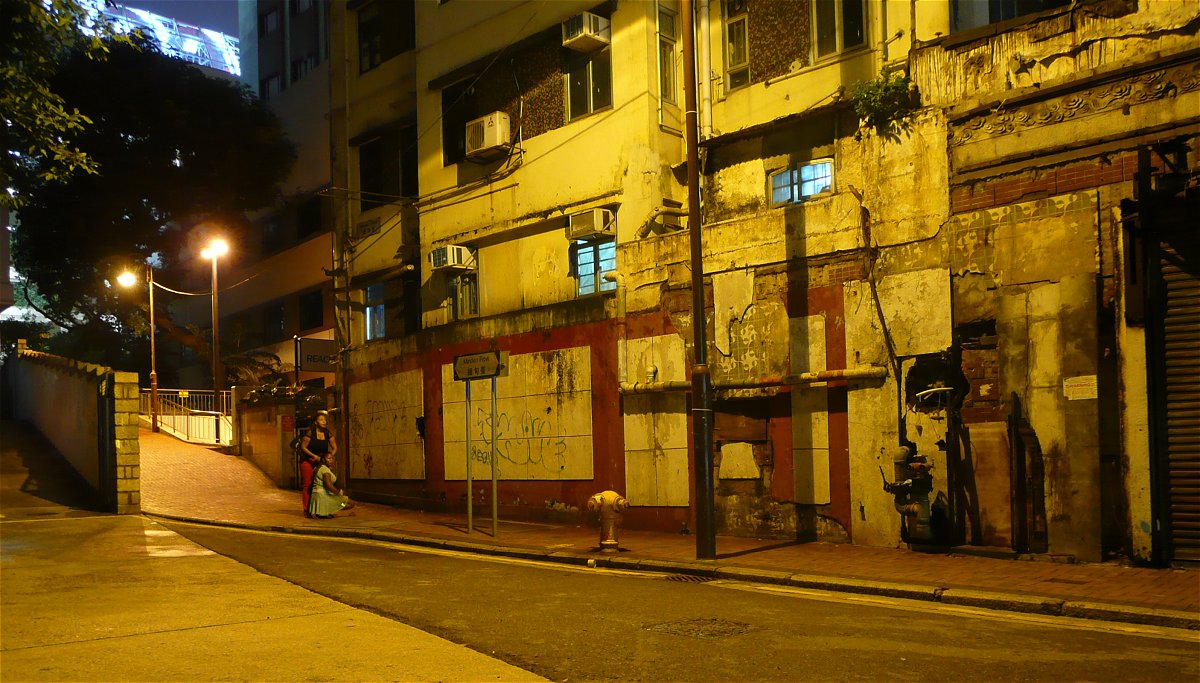 2011 – Hong Kong, Chungking Mansions
This item on the timeline entails a report, based on an in-dept site visit in and around the notorious housing compound in Hong Kong, known as Chungking Mansions. We encountered illegal prostitutes while they were preparing for their night shift. Download the image-based Chungking-report-june2011 (PDF), or continue to our report (and download later).
See also: Gordon Mathews (2011), Ghetto at the Center of the World. Chunking Mansions, Hong Kong. The University of Chicago Press.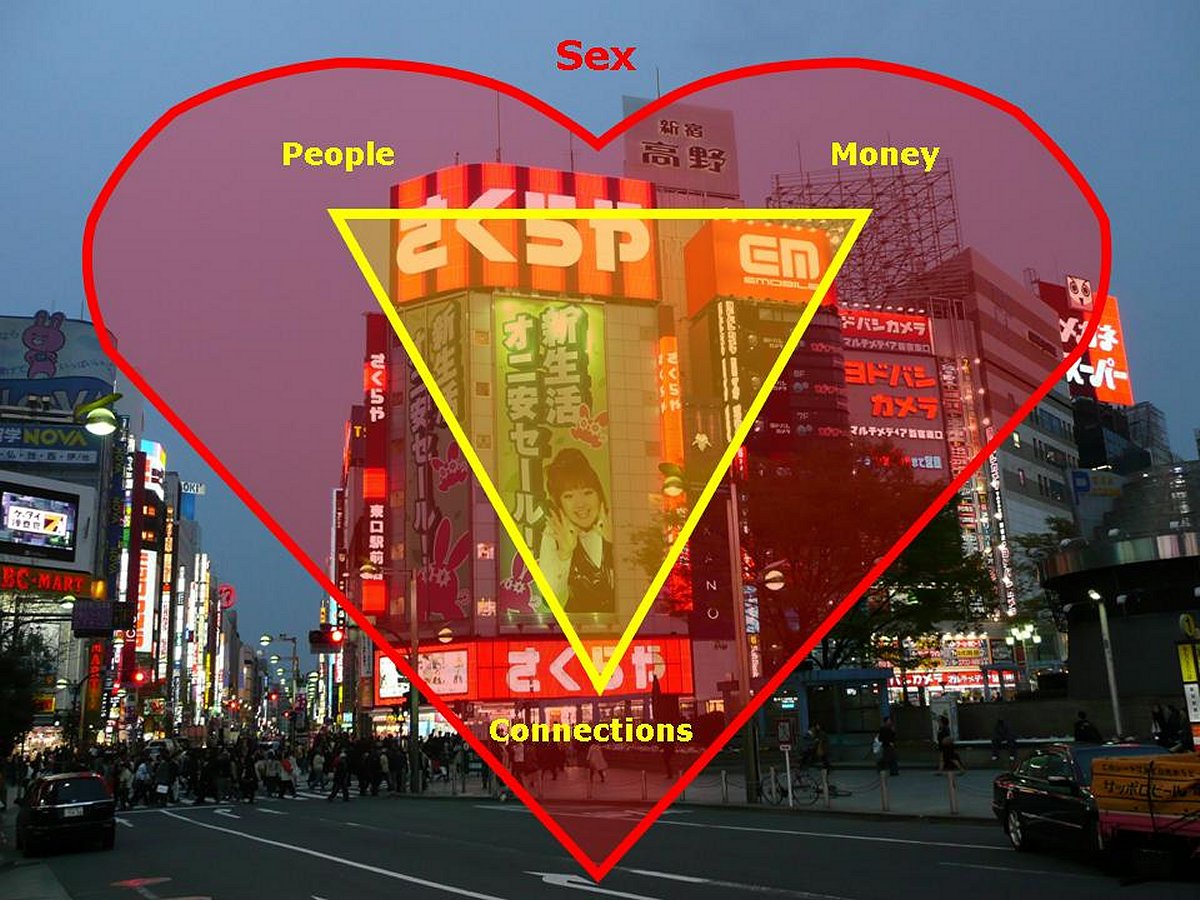 2011 – Sex and the City
This was a short term project (November 2011) using the famous 'Metropolitan World Atlas' of Arjen van Susteren (010 Publishers, Rotterdam 2005). The ambitious aim of the project was an investigation of cities (metropolitan territories) in order to understand their role in social reproduction. Researchers Van Susteren and Favas.net conjectured reproduction ('sex') is the result of mutual interaction between citizens ('people') and means ('money'), supported by infrastructure ('connections'). Three types of cities were selected from the Atlas to explore the hypothesis: a European city – Paris, a North American city – Los Angeles, and an Asian city – Tokyo.

Unfortunately, the maps, their legend and the accompanying data from the Atlas were not suitable to confirm the relationships within the triangle. Success is not always assured. It has become clear, however, that amenities (sex in abstracto, education, shops, red light districts, etc.) and their relationship with users and resources must be investigated on the basis of more detailed map material (as was done later in the research in cities such as Amsterdam and Hong Kong; see the more recent period within the timeline).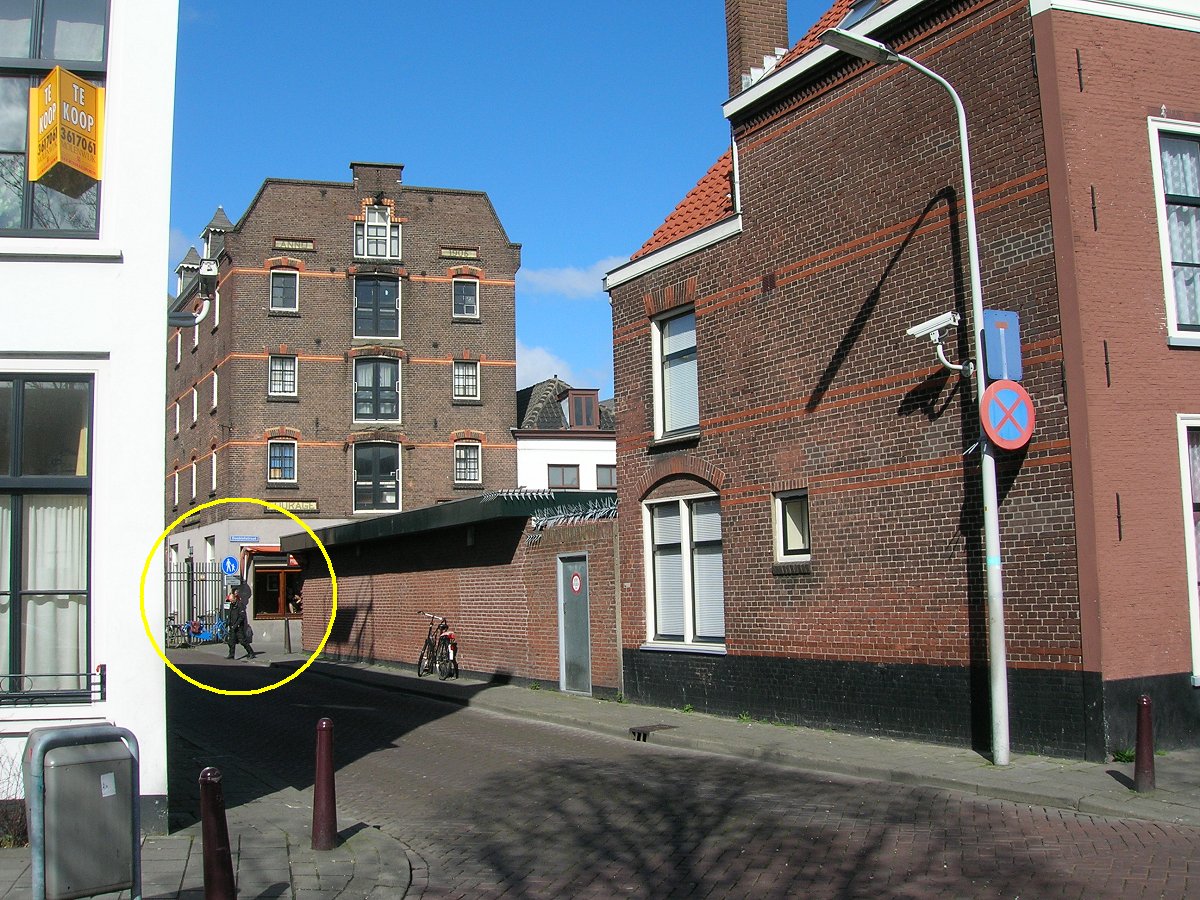 2007 – Safe Places (Veiligwonen.nl)
At the initiative of Veiligwonen.nl (part of Favas.net since 2016), a series of cases were examined in a short period of time that had been assessed for the police in The Hague in the 1990s (see the prologue of the timeline) on the relationship between built environment and safety. The 'red light' circuit in the Doubletstraat case turned out to be still in full use. However, at the end of the street an adjacent street was closed off with a fence, so that the walking circuit here was only connected to the environment in one direction.
1991-1998 – Prologue
The work on Red Light Realm goes back to the time when Rob van der Bijl (one of the founders of Favas.net) worked as an urban planner for the Dutch police. In those years he conducted research and compiled advice on safety aspects of the built environment. Many architectural and urban plans were examined in this regard and provided with advice. Various plans related to prostitution in and around buildings (brothels), but also in public space (streetwalking zones) in the city of The Hague. One of these cases is archived in the SAFE PLACES (Veiligwonen.nl) knowledge base (since 1998 – Doubletstraat case).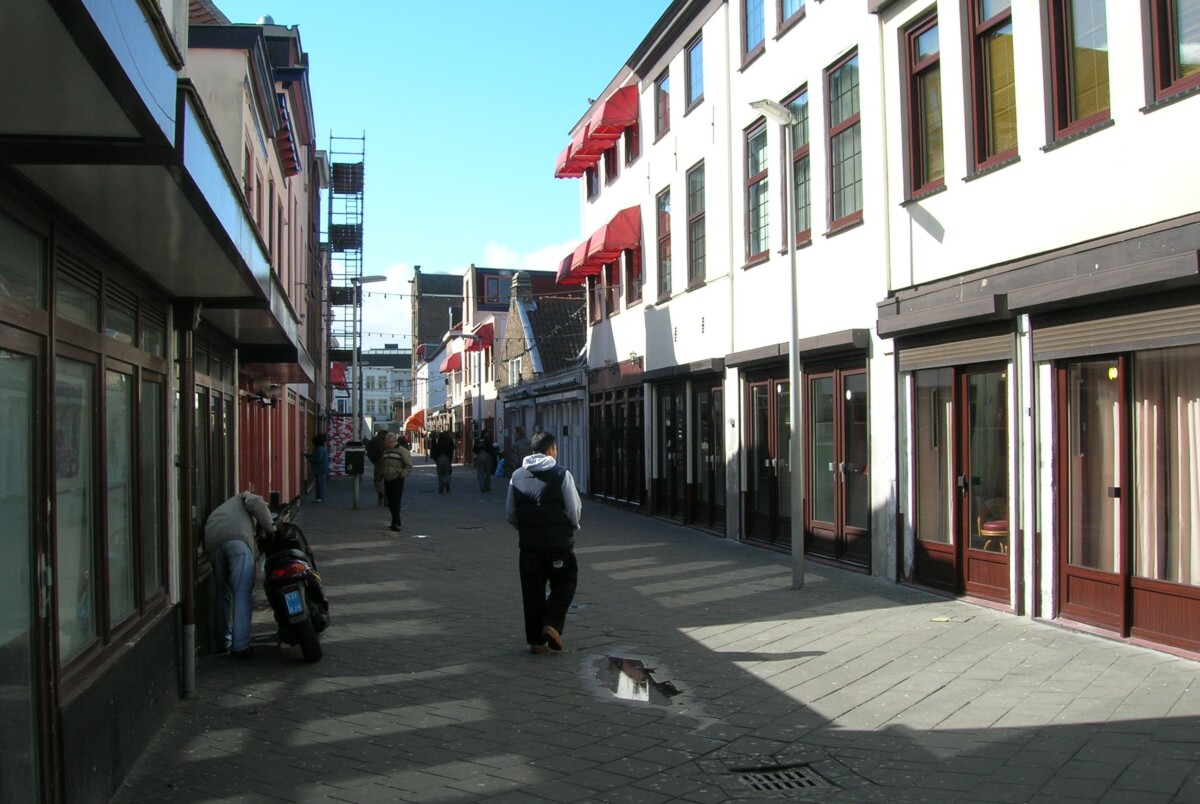 Acknowledgements
Red Light Realm is an 'umbrella' project under the responsibility of Favas.net.
All rights of the book 'Red Light District' are reserved, ©2016, The Architectural Observer.
Conception of this book rests with main author Tsaiher Cheng.
This webpage is edited by Favas.net (texts/images/layout).
Selected images by Gio Mikava and Ryoj IIwata.
Update: July 15, 2021
Previous update: March 16, 2020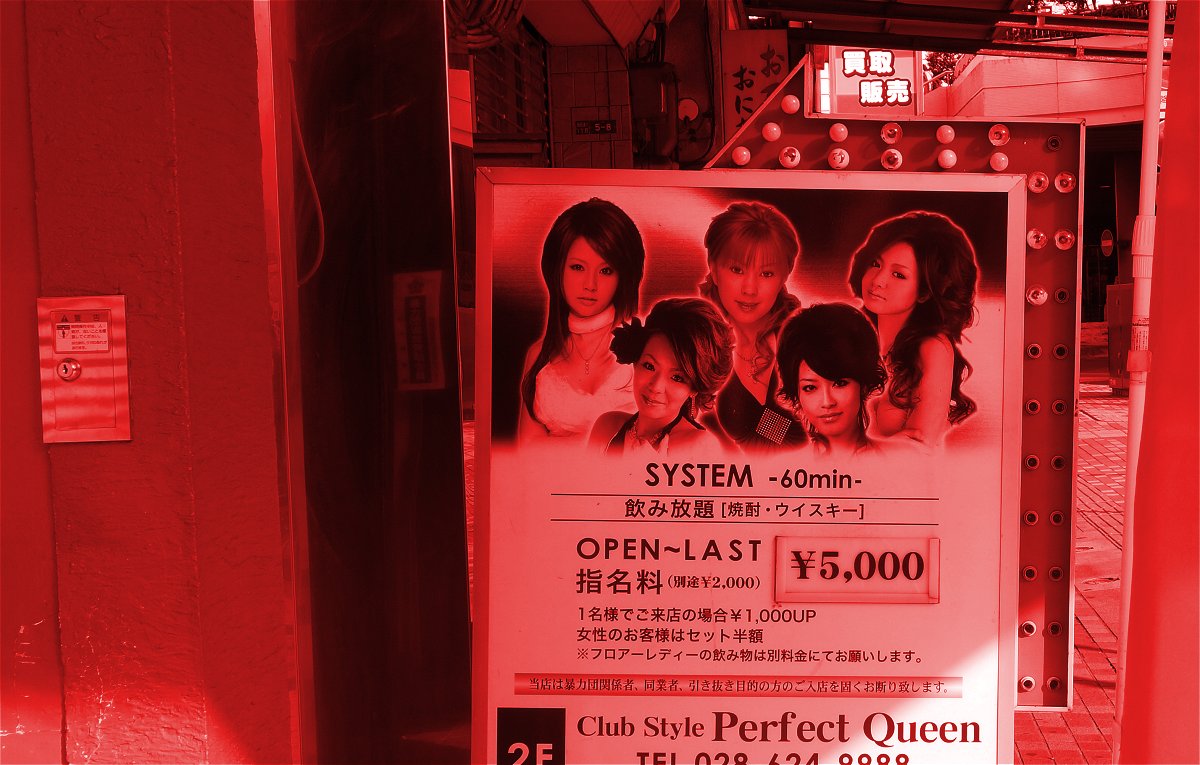 Entrance of a typical Japanese 'cabaret club', strictly speaking this isn't a sex venue, but a bar where the predominantly male customers can have flirtatious conversations with the hostesses on duty. They put the 'salarymen' at ease after work, sing karaoke and graciously pour them a drink.
Cabaret clubs (and hostess clubs) are not part of red light districts, but they do betray the traditional, subordinate role women play in Japan's public realm as sort of modern geishas. There are a lot of places like this in Japan, for instance this one, close to the main station in the city of Utsunomiya, north of the Tokyo metropolis (Rob van der Bijl, October 20, 2018).