Cycling Mama Agatha received certificate
Agartha Frimpong, nicknamed Mama Agatha, is a Ghanaian woman who runs a bicycle training program for migrant and refugee women in Amsterdam Southeast (Netherlands). Saturday June 22 (2019) she organized the first Bicycle Festival in Southeast.
Rob van der Bijl (Favas.net) thanked her on behalf of the Dutch Cycling Embassy. He underlined her efforts over the past 10 years with an official certificate (and a nice present). He also praised her contribution to social integration through her cycling lessons. "The DCE does a lot about technical subjects and spatial integration of bicycles, but social inclusion is just as important," he said, "especially in a precinct like Southeast."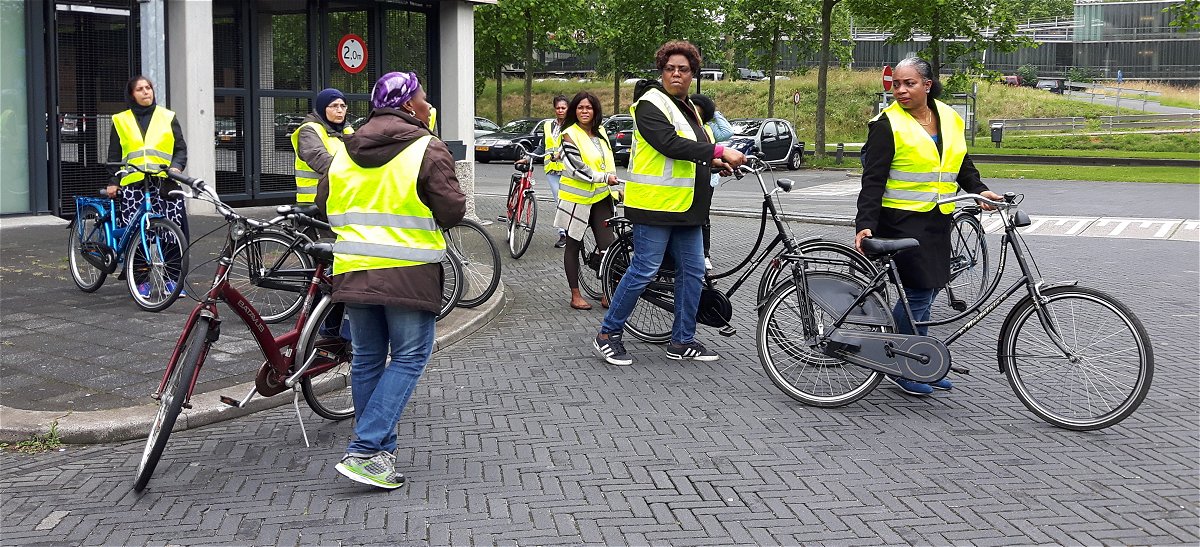 Amsterdam

Amsterdam offers a set of already tested measures to succeed in obtaining higher levels of cycling . Bicycle and pedestrian friendly streets, a range of traffic calming measures, better integration of bicycle infrastructure and public transport, reaching to and training of the immigrants, comprehensive traffic education and cycling training (e.g. Mama Agatha), and a wide range of promotion schemes are key to the success of cycling in Amsterdam.

Credits
Text: Favas.net
Images: Shelly Bontje, Marek Jancovic
During the Bicycle Festival, the previously made documentary (by Marek Jancovic) about Mama Agatha was shown, which can be viewed at YouTube.
See also:
https://favas.net/reports/ventriloquism-and-cycling/
Mama Agatha is presented here as an important case.
(February 2023)