Empowerment of La Grande Borne
An alternative approach for a cité (Paris-Grigny, France)
The French sixties neighbourhoods are notorious. Urban planning failed (see e.g. Epstein, 2016). Grigny in the southeast of Paris metropolis serves as one of our prime reference projects. Our case here is the cité (neighbourhood) 'La Grande Borne'. Favas.net started a research project to improve the social fabric of this neighbourhood (first phase, 2016, in co-operation with magazine Blauwe Kamer). Complementary to the official urban blueprint plan we want to invent an alternative approach that includes local interest, culture and knowledge and offers residents opportunities to develop themselves socially and economically.








La Grande Borne (Grigny, Paris)
This research project is still ongoing. Preliminary results were published (2016) in the premier Dutch magazine on landscape architecture, urban planning, and urban design Blauwe Kamer (in Dutch).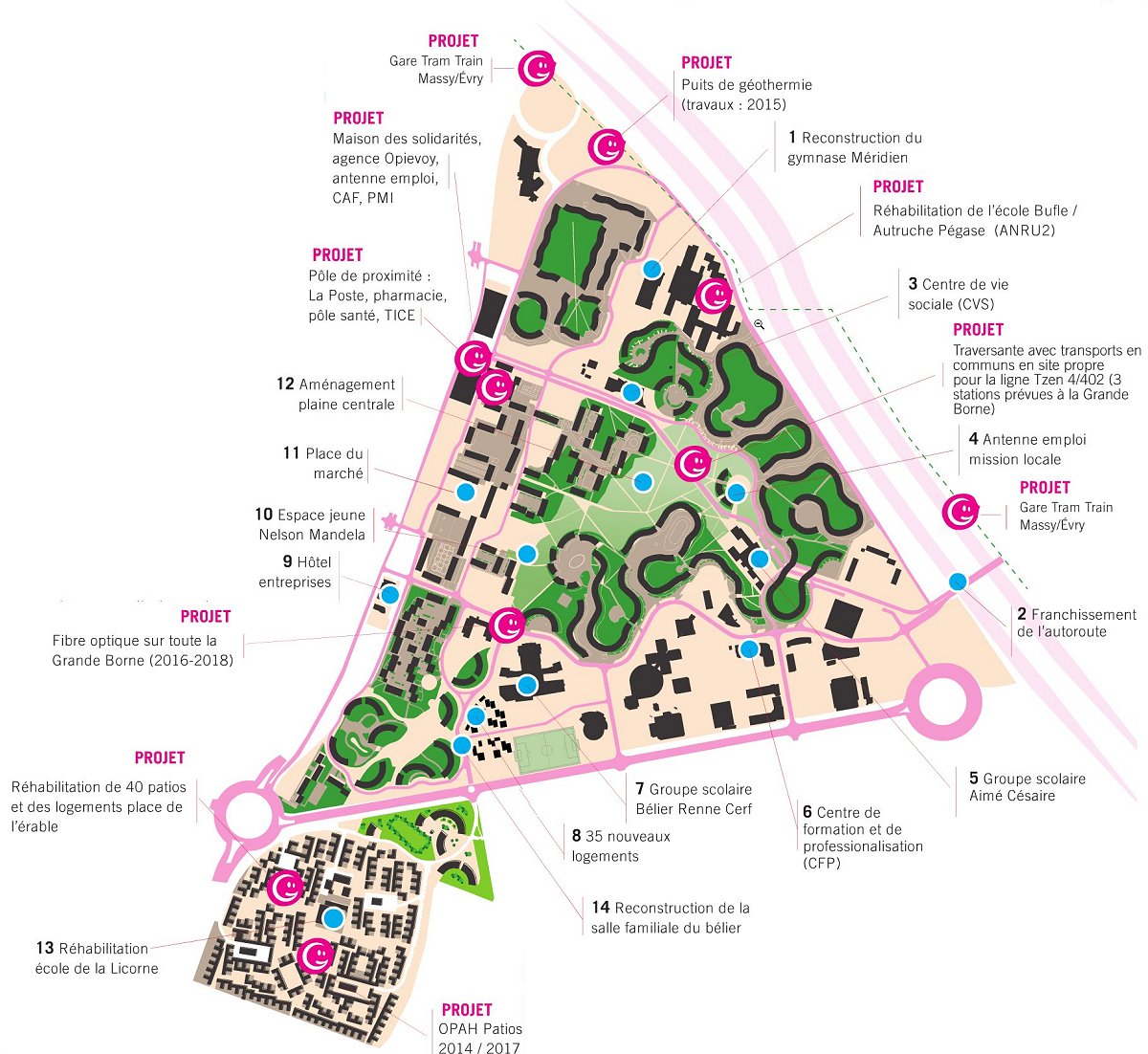 October 2016 witnessed a tragic attack on a police car. Favas.net investigated this case (more information in due time).
Fieldwork was continued during 2017-2018.
News 2018: The president of France rejected the 'master plan' of Borloo to help out the people in the French suburbs. If there is not a real plan, what will the French government actually do for millions of people who are living in poverty? Nevertheless Macron said he wants to invest directly in people, so they will change their neighbourhoods instead of the government. The French president wants to offer people the opportunity to study, to have a job, to live in a safe environment, in order to change the suburbs into a place that is worthwhile for young people to grow up in.
Download the Borloo plan 'Vivre ensemble – Vivre en grand. Pour une réconciliation nationale' (in French).
La Grande Borne is a project of Favas.net, in co-operation with Laurent Chambon and many others.
Some references:
. Renaud Epstein, Le 'problème des banlieues' après la désillusion de la renovation. Metropolitiques, le 18/01/2016
. Doug Saunders, Arrival city. Cornerstone, 2011.
. Wouter Vanstiphout, De rol van stedenbouw, architectuur en stadsbestuur in de rellen in de Franse voorsteden van 2005. De architect heeft het gedaan! Crimsonweb, 2010.